Though I have been able to secure freedom (in some measure) for myself and my family by leaving Michigan and going to Arizona to live. I feel a great burden for all the people I care about back in Michigan.
I think I understand how immigrants felt when leaving behind family in Russia, Iraq, or other countries where they had been living under great oppression and have become accustom to the slavery their government is holding them down under.
It is a difficult feeling to explain.. the sudden appreciation and lifting I feel off my shoulders. I can feel a real sense of hope again.. as if my life can be improved by hard work and smart choices. The shackles of 'one size fits all' government have been broken off.
Now.... can we the federal government from putting those shackles on the states that have chosen freedom over slavery?
---------------------------------------------------------------------------------------
Tuesday, June 01, 2010
Senator Debbie Stabenow's Socialist Mentor
Cross posted from KeyWiki Blog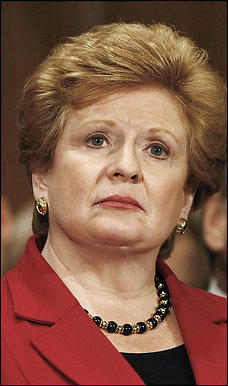 Michigan Senator Debbie Stabenow is a leading advocate of reinstating the free speech destroying "Fairness Doctrine" for talk radio. "Whether it's called the Fairness Standard, whether it's called something else," she told journalist Bill Press, "I absolutely think it's time to be bringing accountability to the airwaves."
Where did the woman get such totalitarian attitudes? Here's a possible answer.
It turns out that Debbie Stabenow is a long time friend and protege of leading Michigan activist Millie Jeffrey.
While holding key positions in the Democratic Party, the grandmotherly Jeffrey was a committed socialist and a leading member of the Marxist based Democratic Socialists of America.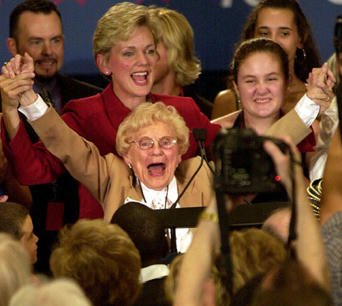 Millie Jeffrey front, Jennifer Granholm, behind
On Millie Jeffrey's death in 2004 Debbie Stabenow wrote;
...today I have lost a very dear friend, as have the people of Michigan and hundreds of thousands of people across the country. Millie Jeffery is an icon in the State of Michigan and in our country for civil rights, women's rights, and workers' rights. Her life has epitomized the principles by which we all strive to live our lives-justice, equality, and compassion...Millie is the "political godmother" for many of us, and we are extremely grateful for her love and support.
Both Michigan Gov. Jennifer Granholm and Sen. Debbie Stabenow told the media that they would not be in their current positions without the "decades of work that Millie had put in on behalf of equal opportunities for women.'
Millie Jeffrey's support for Stabenow was practical and long term. In 1994 Jeffrey was a leader in the Stabenow for Governor Committee. In 2000 Millie Jeffrey was prominent in Team Stabenow - actively supporting her friend's successful bid for U.S. senate.
More significant perhaps were two trips that Jeffrey and Stabenow took together to the Soviet Union and the Peoples Republic of China.
In June 1989 Debbie Stabenow visited Moscow, Leningrad and Tblisi, Georgia as a delegate with Women for a Meaningful Summit traveling with the Hon. Millie Jeffrey and far left Detroit City Councillor JoAnn Watson. Apparently also with the delegation, was "grand dame" of the American far left, Cora Weiss of Institute for Policy Studies fame.
Jeffrey had been to the Soviet Union at least once fore -in 1969 - 70 and had apparently made some friends - Stabenow was certainly impressed;
Every place we went women would walk in off the street and ask if Millie was there. And they may have been speaking another language, but they would walk in and they would be looking for Millie Jeffrey.
It was the same in China in 1995 (Jeffrey had been there in 1974) . Said Stabenow;
Millie's capacity for connecting with people was unmatched. As one who traveled with her to the Fourth World Conference on Women in Beijing, it was amazing to see people from all over the world, hearing we were from Michigan, asking if we knew Millie Jeffrey and if we could tell them where she was; or that their grandmother, their aunt, suggested they meet Millie Jeffrey....
Free speech (for opponents) was never highly valued in the Soviet Union or the Peoples Republic of China - nor by the likes of the deceptively named Democratic Socialists of America.
Has Debbie Stabenow's attitude to the First Amendment of the U.S. Constitution, been in any way influenced by her visits to the old socialist bloc, or her relationship with one of America's most committed and effective socialists?
.